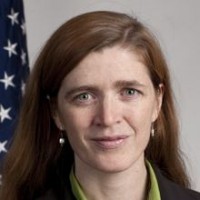 By Natasha Kieval, STAND Programs Intern
Samantha Power, author of the Pulitzer Prize winning book A Problem from Hell: America and the Age of Genocide, is Obama's pick as the new US Ambassador to the United Nations. Her book, which details US knowledge but subsequent inaction during episodes of genocides such as Rwanda, inspired Georgetown students to create STAND and guide our mission. Power has been a leading advocate in increasing public awareness of genocide and human rights abuses.  STAND is excited about Power's nomination considering her history as a leading advocate of human rights, and we hope she works with her colleagues at the United Nations to protect civilians and pursue nonviolent solutions to conflict.  Check out this brief bio of Power below!
Power began her career as a journalist, covering the Bosnian genocide among other topics during the Yugoslav Wars. She then served as the Founding Executive Director of the Carr Center for Human Rights Policy at the Kennedy School of Government at Harvard University. Power was Obama's senior foreign policy advisor during his presidential campaign until 2008, when she resigned amid controversy, after she referred to Hillary Clinton as a "monster." That same year, she joined the Obama State Department transition team, was named Special Assistant to President Obama, and became the Senior Director for Multilateral Affairs and Human Rights on the National Security Council. In 2012, she was chosen by Obama to chair the newly created Atrocities Prevention Board.
During her career, Power has focused on UN reform, the promotion of women and LGBT rights, and the protection of religious freedoms. She has campaigned against human trafficking and worked to promote human rights and democracy in the Middle East, North Africa, Sudan, and Burma. She was considered key in persuading President Obama to intervene in Libya in 2011.
Power's history of advocating for more international action in cases of mass atrocities has led to speculation on whether the Obama administration will now pursue a more active, interventionist foreign policy. However, she has also referred to the "toolbox" of foreign policy options for the US government, including economic sanctions, ICC referrals, and bans on travel for human rights abusers instead of intervention. Her main task will be to face the crisis in Syria. While some predict that Power, an outspoken woman who started her career observing genocide in Bosnia, will advocate for increased intervention, others are skeptical that her appointment will inspire more action, citing Obama's resistance to intervention. Power's previous calls for intervention have also been for multilateral, international coalitions, which appear unlikely in the case of Syria. The story will unfold as her career as UN Ambassador begins in July (after Senate confirmation) – stay tuned!
"With great Power comes great responsibility." We want to hold Samantha Power, the new US Ambassador to the UN, accountable for making atrocities prevention and response a priority. Join us in showing Samantha Power that we are paying attention by using her own words as a call to ACTION!
It's simple: pick out a quote, take a picture, and tweet, email or post the picture to us with#AccountablePower. We'll put all the pictures together and get them to her with our list of policy demands once she takes her position in July. Head to http://bit.ly/14oEVQd to find out more details & choose a quote. We can't wait to see your faces!