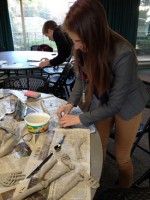 By Rebecca Ljungren, American University STAND
You may think that a bone is just a part of the human anatomy, but for students at American University last week, it became so much more. On November 28th, the American University chapter of STAND held an all day One Million Bones Marathon. Through this event we are changing the way students learn about genocide.
What is One Million Bones? OMB is a practice that combines education and art to not only raise awareness of genocides today, but help in the prevention as well. Founder Naomi Natale believes that the symbol of the bone represents our common humanity and offers a reminder that we belong to each other. Also, each bone registered with Students Rebuild will generate a $1 donation, up to $500,000 from the Bezos Family Foundation to CARE, who works with communities in Somalia and the DRC.
With the STAND community at AU working on education and activism in the same areas as OMB, it was an obvious match! Through the integration of STAND knowledge during events, such as the viewing of documentaries pertaining to the situation in Burma, along with hands-on bone-making, we hope to reach out to a broader base of students. These students are those who may not want to sit through panel discussions or seminars on the subject, but who do have time to make a bone.
These bones represent every single one of us; inside we really aren't so different after all. So though it may be just one, your voice DOES count. 112 bones were made at American University, and so 112 voices spoke- so far. Will you make your voice heard? All it takes is one bone- one in a million.