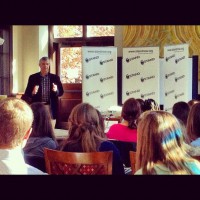 By Sean Langberg, UNC STAND
Last weekend, nearly sixty student atrocities prevention advocates from Texas, Florida, Georgia, Virginia, Washington D.C., gathered in Chapel Hill, North Carolina for Changing Human Rights Activism: Atrocity Prevention for a New Generation.  The conference featured three professors from the University of Chapel Hill including the Assistant Secretary of State for Public Affairs in the Carter Administration.  Other speakers included Carl Wilkens, the only United States citizen to remain in Rwanda during the 1994 genocide, Laura Seay, a professor at Morehouse College, and Niemat Ahmadi, president of Darfur Women Action Group.
During the two days, students discussed contemporary issues affecting the atrocities prevention movement such as the role of diaspora groups, how to understand the Responsibility to Protect doctrine, how to avoid and improve "slacktivism," and how students can develop nuanced advocacy.  In keeping with the theme of the conference, speakers discussed ways to transform the way we think about the history of human rights, the intersection of international politics and morality, and the ways in which we approach activism as students in the United States.
Big thanks go out to all of the organizers, most notably Shomya Tripathy, Hannah Finnie, Ashley Jowell, Daniel Solomon, Kat Fallon, Stefani Jones, Mickey Jackson and the entire Stand UNC team, including Mariah Bragg and Zach Bijesse, Brenna Yellin, Rachel Desch, Maitreyee Singh, Joanna Matanga, and Erica O'Brien.  Also, a special thanks goes out to the Topsail High School students and teachers.
If you would like to get in touch with any of the speakers or organizers of the event or learn more about the content of the weekend, feel free to send an email toselangberg@gmail.com.