Giulia Duch Clerici is a junior Political Science/International Relations and Economics major at Tulane University in New Orleans, Louisiana. This summer, she investigated refugee relief and integration initiatives in Europe, and worked at a refugee camp in Greece. These experiences allowed her to develop a greater understanding of the political issues surrounding the refugee crisis and the experiences of the refugees themselves. Giulia has been my close friend since my freshman year of high school, and upon her return to the United States, I insisted that we meet so I could hear about all the fantastic work she did this summer.
Could you briefly describe the research you conducted this summer?
I started with a research grant that my friend Lipaz and I received from my university's Honors program to investigate refugee relief and integration initiatives in Western Europe. We focused on the political and economic aspect of a migration influx like the one that the European Union was facing as conflict in Syria escalated: we were interested in looking at how the appearance of an "incoming refugee" figure affected European nations' views on their established welfare states and labor market systems; and how that contributed to the shifting political climate and rise in extreme right parties.
Where did you travel?
Lipaz and I traveled to Milan, Berlin, Amsterdam, Nijmegen and Brussels and spoke to EU representatives, academics, journalists, watchdog organizations, independent volunteers, startup entrepreneurs, and refugees themselves about the displacement crisis, focusing in particular on Syrians arriving in the E.U., but always understanding that the issue is a much bigger problem and needs to be considered in a global and historical context. Additionally, before and after our interviews in Europe, I volunteered in refugee camps in Northern Greece. I was in a town near the border with Macedonia called Polikastro, which had become the center for international volunteers, journalists and NGOs since the makeshift, unofficial Idomeni refugee camp started and got big around March.
What types of questions did you ask in your interviews?
In general we were interested in learning how different people (rich, poor, natives, immigrants, etc) in Europe were reacting to this refugee influx, so we asked questions about their personal beliefs as well as what they thought their community believed. It was difficult to conduct research in an unbiased way, because the issue is so polarizing.
Did you experience any difficulties in conducting your research?
I would speak to people who were all about welcoming refugees, so much so that they victimized them or made them all sound like success stories, overlooking their individuality and the important challenges we face as a society to integrate them. And I would speak to people who had never spoken to an immigrant and refused to see what they shared in common.
How did the Idomeni refugee camp get started?
When Macedonia closed its borders (and like a domino effect, was followed by all other Balkan countries), refugees who were arriving from the islands, such as Lesbos, started accumulating by the border into what eventually became Idomeni camp, an informal camp hosting about 11,000 people. I actually went to Greece the week after the police forcefully and violently evicted the unauthorized Idomeni camp and moved people to military camps, which are tucked away in remote areas of the mainland.
So what was the refugee camp you actually ended up working with and what kind of work did you do?
After the interviews in Western Europe with Lipaz, I went back to an educational project in one of the military camps I had previously volunteered with. I found myself in charge of managing the lessons for the 5-18 year olds. This not only involved ensuring the schedule was followed and that the teachers and students came to the lessons, but it was a team effort between the people of the camp to create a working project and build a community.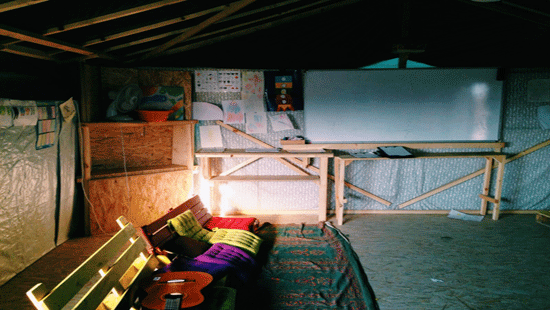 How do you run a school in a refugee camp?
The managers and the teachers (about 30) were people from the camp: Syrians and Iraqis, Arabic and Kurdish speakers. Then there were school helpers, teenage volunteers, our gardener, and the school even had its own soccer team in the league one of our volunteers had organized (a Kurdish refugee who came to help in the camp once he got his passport and asylum granted in Paris). Team Madrasa felt like such a strong, happy community in the middle of the conflict-ridden society in the camp.
How did you get started working at the refugee camp?
The first time I went to Greece I was flying solo – I was really afraid that I would be a burden, that I would not be able to help, and I wanted to make sure it would not be voluntourism. After speaking to many people who had volunteered there before, the consensus was: "Don't bother the people on the ground with your travel plans, they have no time for that." So I booked my flight, stayed updated on the latest changes by reading a ton of blogs and news channels, found a 2.50€ a night place to stay in the center of the tiny city of Polikastro with a guy who had been volunteering there for months, and I went.
In two weeks, I participated in about 6 projects and visited every camp in the area. Unlike an organized service trip, there was no structure, just dozens of projects that needed help at certain points throughout my stay. I set up the classrooms in the school in the morning, chopped up veggies, distributed oranges, washed babies, served lentil soup in paper cups,  served Ramadan dinner at 8 PM, built floors for tents that were flooded with rain, taught introductory English lessons, and ran placement tests for adults… every day, every hour had a different need, and the organizations wanted flexible, independent volunteers who could take care of themselves and take initiative. When I coordinated a volunteer team the second time I went there, I understood how overwhelming it is to have to plan activities for all the volunteers who are always asking what they could do next. Even though it was confusing and intimidating, I'm glad I was solo and independent the first time around: I was able to help much more and never felt like a burden to anyone.
How did the research you conducted impact the work you did at the refugee camp in Greece?
I feel extremely privileged to have been able to see more sides of the refugee journey than most, since not everyone who wants to help is able to visit both refugee camps and immigration centers in Europe. While I had far from a complete view of the situation, my experience with one piece made me aware of the complexity of the whole crisis. Groups working to integrate refugees arriving in major cities often made little effort to understand where these people were coming from and therefore had trouble reaching the newcomers. Similarly, groups in Greece often were completely unaware of what the reality would be once the refugees arrived in Europe, so their initiatives failed to prepare them for the challenges they would face. More communication between all phases is crucial. This newfound awareness helped me make an effort to understand the experience from the refugees themselves, and I made sure the projects I worked with always involved them and gave them as much autonomy as possible.
How did you communicate with the refugees? Did you experience difficulties in communication with the students and the teachers at the refugee camps?
Broken English was the official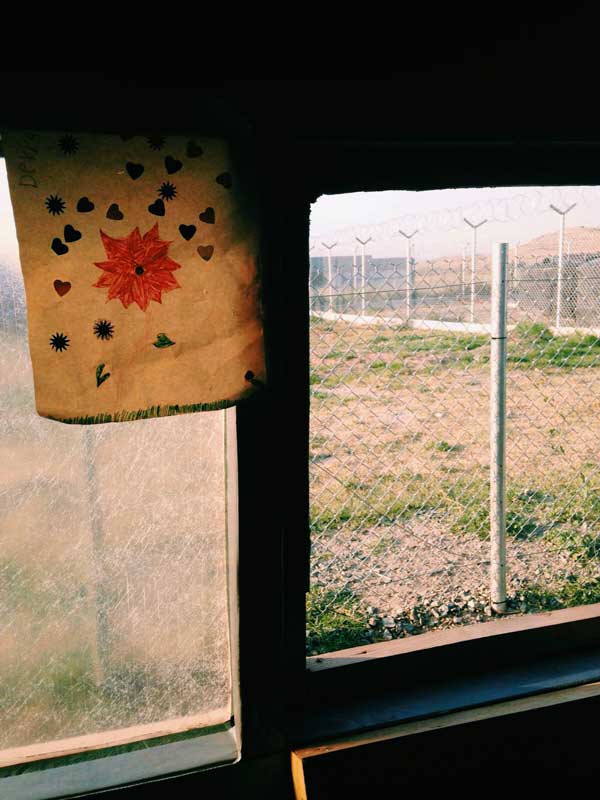 language – speech was slowed down, grammar was entirely forgotten, vocab simplified, difficult accents softened, and "good, no good," or, "problem, no problem" alone could communicate thousands of things. Pointing and hand gesturing, facial expressions, drawing on sand, were often enough to get your point across. Of the people in stuck Greece, very few knew English. The volunteers and the local Greek community oftentimes did not know English either – everyone was from somewhere different and English was everyone's second language, so when it was spoken, it was never judged. I lived in a shared apartment with volunteers from Poland, Italy, the Netherlands, Germany, Romania, and a million other places. I constantly switched between English, Spanish, Italian, even Catalan. I practiced French, and learned words in Arabic, Kurdish, Greek, German, Turkish, and Romanian.
The levels of education of the refugees varied immensely – they were all different families from different regions and different socioeconomic backgrounds – but every single one of them was making great efforts to learn new languages. Kids of all ages wanted to come to school. Our afternoon adult language sessions were in highest demand, and if we had to cancel or reduce them it caused a lot of disappointment. When I stopped by a tent, the mother or father would pull out a notebook in which they had written the ABCs and a few more words, and would ask me to check for mistakes. I had a set of flashcards with basic words and I could sit for hours and hours with kids or adults, on the ground, in a field, in a tent, on the rocks, anywhere.
Lessons were given in Arabic and Kurdish by teachers in the camp. We had a few of our best English speakers in the school who could help translate when we needed to speak to parents, other teachers, or helpers. It was difficult to run a school in Arabic/Kurdish given that I don't speak the language or recognize the alphabet whatsoever, but we did it – I took photos of the little kids for the rosters to overcome the fact that I had no idea how to spell all these names I had never heard before, we translated schedule into both languages, made sure to get feedback and input from the teachers constantly so it would be easier to communicate… and we used lots of high fives and songs in made-up languages!
This summer I learned that language barriers do not exist: if both parties are making an effort to communicate, communication will happen some way or another.
If you could summarize your experiences this summer into a main lesson you have learned what would it be?
I think Elizabeth Ferris and Kemal Kirisci summarize my feelings best in the preface of their book, The Consequences of Chaos, "addressing the current displacement crisis should be based on recognition [of the reality that] refugees themselves are actors capable of taking their own destiny into their hands."
What can we do to help ameliorate the conditions of refugees around the world? Are there any policy asks students can support directly?
I had some questions about the role of UNHCR while I was working in Greece because of the way some of the higher ups who visited would behave. They alway looked uncomfortable and out of place and never showed efforts to listen or understand. I noticed a communication gap between them and the people on the ground, and I was disappointed with the politics that obstructed them. However, the three asks of their #WithRefugees campaign are clear and specific, and they address the most crucial problems. These asks do not solve the root cause of these displacement crises, which I believe are based on the fact that there is no universal legal pathway for immigration available. But for now, UNHCR's campaign asks can have significant impact on the refugee community worldwide:
Ensure every refugee child gets an education.

Ensure every refugee family has somewhere safe to live.

Ensure every refugee can work or learn new skills to make a positive contribution to their community.
Pressuring our leaders to support those goals and holding our governments and multinational organisms accountable to those goals will help make the lives of refugees worldwide better.
Still, this is not a long-term sustainable solution to the refugee problem: what needs to be changed is the immigration system. Displacement crises will only increase with time, and we must improve the process of registering refugees and processing asylum applications by making it more affordable, more reliable, more secure, faster, and able to manage mass influxes in case of emergency. In a world with Touch ID on iPhones, Google Maps, UberEats, and online banking, it is ridiculous that immigration agencies are relying on such outdated technologies and so many bureaucratic restrictions. And as always, efforts to eliminate xenophobia and educate people about diversity are essential and should be continued worldwide.  
–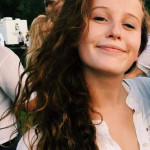 Giulia Duch Clerici is a Spanish-Italian Economics student at Tulane University, in New Orleans, LA. She spent the summer volunteering in the refugee camps in Macedonia, Greece and focused on the coordination of the educational project in NeaKavala, which is supported by the InterEuropean Humanitarian Aid Association.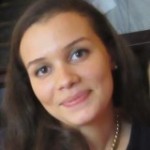 Farida Ettefa is a junior Biochemistry major at the University of Maryland, College Park. She is STAND's Mid-Atlantic Regional Organizer and recently formed a STAND chapter at the University of Maryland.