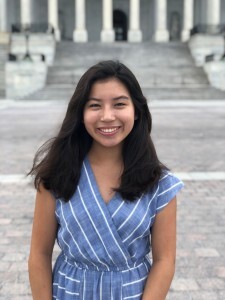 This blog is the fifth in a series on the Global Fragility Act, signed into law on December 20, 2019, which would significantly reorient U.S. foreign policy and assistance to address the root causes of violence. It requires extensive cooperation between U.S. diplomatic, development, and defense agencies in order to develop the Global Fragility Strategy (GFS), to be submitted to Congress on September 15, 2020. The GFS will be the first-ever whole-of-government plan to prevent or reduce conflict in at least five fragile contexts over a 10-year period. Under the new GFS, agencies will use a range of diplomatic and programmatic efforts to address the drivers of violence while the GFA will support learning. about which diplomatic and programmatic efforts are most effective at preventing and reducing violence.
Learn more here.
---
In October 2000, the United Nations Security Council adopted Resolution 1325 on Women, Peace, and Security (WPS), which was the first UN resolution to recognize the needs of women during and after conflict. The four pillars of WPS, as designated by the UN, are to promote the participation of women in all levels of decision-making, protect women and girls during conflict, ensure that conflict prevention measures include gendered perspectives, and solidify safe and easy access to development programs and humanitarian aid during recovery. The Resolution also served as a policy framework for the Women, Peace, and Security Act, a law passed in 2017 that aimed to improve U.S. security and peace efforts through the implementation of the WPS agenda. However, all facets of both the WPS Act and Resolution require long overdue action to truly prioritize a gendered implementation of solutions to state fragility. 
Conflict disproportionately affects women. During times of conflict, women are uniquely affected due to traditional gender roles and lack of prioritization of women's security and health. Often confined to domestic spheres and tasked with serving as the head of household if left by or separated from their male counterparts, women may be caring for multiple children, the elderly, and attempting to survive off of limited resources. Conflict also heightens gender inequalities–while women and girls are already less likely to obtain an education, women are two and a half times more likely to be out of school than men in conflict settings. Without access to proper resources and life-saving support, women are left extremely vulnerable to different forms of trafficking, natural disasters, and sexual violence as a weapon of war. Especially in cases of genocide, where atrocities are committed with the intention of preventing the existence of a certain ethnic group or nation, women are subject to rape, forced sterilization, and female genital mutilation. Maternal health is also virtually nonexistent in conflict settings–pregnancy-related deaths constitute 60% of women's deaths in situations of armed conflict. 
Despite the disproportionate amount of violence that women face in times of conflict, their needs and voices are rarely taken into account when rebuilding post-conflict or implementing measures to prevent future conflict. The Council on Foreign Relations estimates that between 1992 and 2019, women constituted 3% of mediators and 4% of signatories in reconciliation processes. Moreover, from 1990 to 2018, a mere 19.7% of peace agreements contained language or provisions addressing women or gender. The exclusion of women from peace processes sets up societies for repeated failure–if the needs of all individuals in a population are not met, the likelihood of fragility increases. The WPS agenda's goal of ensuring the participation or representation of women during peace processes is not only necessary but vital to sustainable peace- the International Peace Institute estimates that peace processes involving women are 35% more likely to last at least 15 years. Allowing space for women's insight and demands ensures a more human-rights based approach to rebuilding that will allow gender equality, rights for marginalized groups, and the root causes of violence to be better addressed. 
The United States has the opportunity to forward the goals of WPS and ensure proper implementation of the WPS Act while preventing conflict worldwide; the Global Fragility Act (GFA), passed in December 2019, is a bipartisan foreign policy bill that reorients the way the U.S. addresses violence and conflict and is designed to meet the needs of those most impacted by conflict- including women. The GFA prioritizes localization by seeking to promote locally-led programs with local actors- this leaves potential for women and youth voices to be centered in civil society, allowing women a chance to engage with their communities as a facilitator, mediator, or signatory during program implementation or peace processes. U.S. agencies working under the GFA are required to consult civil society groups and cede leadership of programs or policies to local governments- with this method of implementation, the voices of all groups in society are taken into account, and listening to groups, such as women and youth, becomes a crucial aspect of the programs' success. Women's participation in developing local programs, violence reduction policies, and peace processes directly contributes to the GFA's goal of conflict prevention while decreasing inequalities and strengthening their state's ability to govern undisturbed by social pressures. 
The GFA not only fulfills WPS's goals of promoting women's roles in decision-making but also establishes long-term tracking of fragile countries through the Global Fragility Strategy (GFS). This evaluation of how effective violence reduction strategies and programs are will make way for better data and analysis of women's roles in mitigating conflict. The GFA's long-term evaluation will also showcase the need for gender equality in fragile contexts- gender inequality is one of the most significant warning signs of a fragile state, meaning that the GFA will be compelled to analyze inequalities in society or risk losing sustainable peace. By looking at impact in the long run, the GFA offers opportunities to truly understand the importance of women's contributions in peacebuilding and challenge the status quo of women as victims as opposed to agents of change. 
It is also important to note that the COVID-19 pandemic has only exacerbated women's struggles in fragile regions- the Peace Research Institute of Oslo reports that countries where the status of women is low are more likely to be poorly equipped to treat and handle outbreaks like COVID-19. The current pandemic only increases the urgency to analyze global issues with a gendered perspective and prioritize the protection and inclusion of women and girls.
The goals of Women, Peace, and Security are ultimately intertwined with the sustainable peace and conflict prevention measures that the Global Fragility Act wishes to achieve. To truly address the root causes of conflict and develop strategies for violence reduction, women need to be at the center of all conversations, serving as decision-makers and active leaders in civil society. Successful implementation of the GFA includes successful implementation of WPS priorities,  providing for the security and inclusion of women for years to come.
---
Additional Sources:
---
Caroline is currently a freshmen at UCLA studying international development and French. She has worked with the STAND MC for the past 2 years and is returning as a co-education lead and co-Burma committee lead. Caroline is currently a research assistant for IDP and refugee issues with the US Campaign for Burma and works with the LA Museum of the Holocaust as a leader of the Museum Impact and Education Committee. In the past, Caroline has interned with Congresswoman Linda Sanchez and founded Together We Prevent Genocide, a non-profit dedicated to genocide education. She is a nominee for the 2020 National Gold Award Girl Scouts for her work with public school genocide awareness curriculum and is writer at Redefy for global affairs and legislative issues.