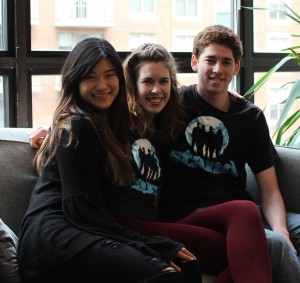 To STAND's graduating MC seniors – It's been an incredible year with all of you, and we are absolutely in awe of your hard work and dedication to this movement. STAND is stronger because of you and your beautiful hearts, commitment, late nights, and strategic thinking. We have learned so much from each one of you and can't wait to build upon your efforts in the coming year. We love you, we will miss you, and we can't wait to see how you move and shake the world!
Giulia Duch Clerici, Southeast Regional Organizer, Tulane University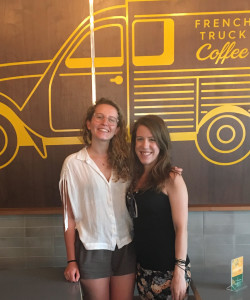 Although your time on the MC was short, you left a large impact! I am so thankful I got to spend time with you in both DC (at the National Conference) and New Orleans. You radiate kindness and grace and are someone who comes to mind when I think about "walking the walk". I felt so heard and understood by you when we talked about balancing school and activism. Thank you for what you gave to me and to STAND and for your passion on these issues. Much love!
– Savannah Wooten, Student Director 
Giulia, we have been friends for such a long time! I don't even remember how many years we have known each other but they have been filled with us awkwardly being the older siblings at all our younger siblings' events and ceremonies. No matter how much time we spend apart, when we catch up, it is as if no time has passed! I love bonding over our love of salads (or half salad and half pizza #ModernMarket), the Mediterranean, sunshine, Dolcezza (we need to go soon please), and of course, our passion for human rights. Recruiting you for STAND was possibly the best late night idea I have ever had because you are an incredible, hard working, and dedicated addition to the team. Hit me up when you are back in Btown so we can hang out at one of our favorite spots!! Love you to the moon and back, forever and always!
– Farida Ettefa, outgoing Mid-Atlantic Regional Organizer, incoming National Outreach Coordinator
Sweet lady, I am so incredibly happy that we met at the Rally for Refugees this past summer! It has been amazing to get to know you and your passion for humanitarian and service work. You are such a thoughtful and loving person, friend, and activist, and I know you are going to do amazing things. I've loved what you've brought to the team over the past semester, especially within our policy discussions on Syria and the refugee crisis. I'm so grateful for you letting me crash at your home in New Orleans, and for all of your NoLa recommendations. Forever glad to have had you on the STAND team, and I can't wait to see what you do next and keep cheering you on! See you in DC so soon!!
– Mac Hamilton, Executive Manager
Tim Hirschel-Burns, Policy Coordinator, Swarthmore College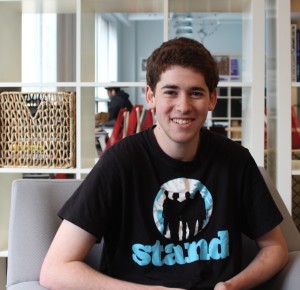 Timmy, you are one of the kindest people I know. I am so happy that we have become friends over the past year and a half—I wouldn't want to have been the "New Kid in STAND" with anyone else. It has been such an honor to see you open up from the quiet and shy RO to the sassy and hilarious Policy Coordinator! You are always the first person to reach out whenever someone needs help and I am so thankful for all your kind gestures. We are all going to miss you on the MC but know you will be one step closer to single-handedly changing the world in Benin! Best of luck in all you do!
– Casey Bush, Campaigns Coordinator
When I first met you this summer I found you both intimidating and hysterical. Thank you for always being there to answer my overwhelming number of questions and tell me what you really think. When I see someone and know I want them to be my friend I tend to jump right into making fun of them… (solid game plan right?). So naturally I spared no time in spreading rumors that you dye your hair. Thank you for being a good sport and letting me photoshop you into countless memes. My favorite Timmy memory is the Women's March which I don't think I would have made it through had you not been my "buddy." Thank you for keeping me with the group and dragging me through crowds. I will forever be in awe of your knowledge and passion. I'm glad we decided to join forces and end our rivalry and I feel so lucky to have gained you as a friend.
– Grace Fernandes, Digital Media Coordinator
Ahhhh sweet Timmy, I know I am going to find this very hard to distill into a short blurb, but I shall try. From getting to know you as a summer intern, to having you on the MC, you have consistently been one of the hardest workers of the STANDfam I have ever met, bringing so much heart to the team, while also bringing your a-game sarcasm. I have loved getting to know you both as a friend and as a colleague, and getting to debate policy and campaign strategy with you over the years. You've been such a rock, and we've all come to rely on you so much, and I'm sure the new STAND team will also look to you for guidance during your limited times of internet access. I will really miss your thoughtful analysis of US foreign policy, your ability to roll out a policy brief in record-breaking time, and sharing laughs and eye-rolls over DC politics. Please know you always have a home in DC when you come visit. I can't wait to hear your reflections from your time in Benin, and thanks for an amazing few years!
– Mac Hamilton, Executive Manager
Elisabeth Huh, Communications Coordinator, University of Chicago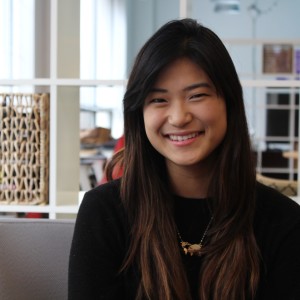 We are so lucky to have snagged you for your final year! We've loved your thoughtful contributions to MC calls, your "big vision" understanding of STAND, and your heart for both the team and the organization. You bring light and care to those around you and you operate with drive — traits that will take you anywhere you want to go after STAND. We can't wait to see what you do next and will always be thinking of you!
– Savannah Wooten, Student Director
You are one of the most inspiring, driven, and beautiful people I have ever met – and that is no exaggeration. Talking to you about your high school, gap year, and college experiences left me absolutely mesmerized! I cannot believe that someone could have done so much so well; you have forever left an impact on my perspectives and thoughts. From listening to your TEDx talk (which is one of the most beautiful talks in existence) to hearing your voice and opinions on MC calls, your articulate and passionate words have made me think about different sides on many subjects. I am so thankful that I have been able to listen and learn from your inspirational words and gotten to work with your driven self. Organize the Midwest conference and hearing attendees' reactions truly showed me your driven vision. All that you did, from getting food to getting the most amazing speakers, made that conference absolutely amazing for everyone. I am so honored that I got to participate in that with you. In that conference and numerous other times you have been the most beautiful soul and person I have ever met. Your way of interacting with people and talking to them is unbelievably kind and gentle. Your heart is truly made of gold and anyone who has met you could easily say that you are truly a beauty (inside and out) like no other! Thank you so much for talking to me and listening to my high school self and thank you so much for making me feel like even I had a place on a table of such intelligent and amazing people. You are truly the most inspiring, driven, and beautiful person I have ever met Elisabeth – thank you so much for being you!
– Harleen Kaur, outgoing Midwest Regional Organizer, incoming Field Organizer
It has truly been a privilege to work with you on the MC this year. You are such a kind hearted, compassionate person and it is evident in all the work you do. It was so much fun planning the conference at UChicago with you, and even though we didn't think it would end up happening, it did! It was such a successful event and I was so proud of what you, Harleen, and I accomplished. Not only have you been an amazing person to work with, but your lighthearted spirit always makes for entertaining times. It has been so amazing working with and getting to know you this year. You have such great things ahead of you, and I can't wait to see what you accomplish next!
– Ellen Bresnick, outgoing Midwest Regional Organizer, incoming Education Coordinator