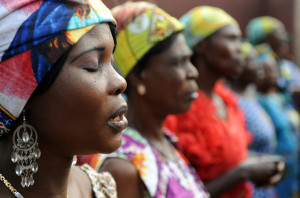 Content Warning: this blog post contains potentially-triggering language and discussion of sexual and gender-based violence.
The Democratic Republic of the Congo, once termed "the rape capital of the world," has faced an unprecedented degree of gender-based violence since the outbreak of war in the 1990s. As the conflict has worn on, the Democratic Republic of the Congo (DRC) has become the epicenter of case studies in use of rape and sexual violence as tools of war. As rebel groups become smaller and more fragmented, the conflict seems to be devolving to a smaller scale, but years of abuse have left a lasting mark on the Congolese people that cannot be forgotten. Some of the most pressing issues concerning survivors of gender-based violence (GBV) in the DRC are the pressing issues facing survivors, and problematic cultural norms surrounding women and their role in society.
Though there are legal frameworks in place to protect women in the DRC, they have little practical use. Dr. Denis Mukwege, founder of the Panzi Hospital in Bukavu, pointed out when speaking to the press, "In the DRC, we have probably one of the best laws in the world that was written in 2006 to protect women. But how many women know about this law? How many men know about this law? Actually, it's not only a question of them knowing it, but the application." As a signatory of the Kampala Convention, the DRC provides victims of violence the right to prosecute their attackers and seek a conviction in a court of law. Yet there is a lack of awareness on the ground that these resources exist. Within more remote parts of the eastern province, civilians also may not have direct access to lawyers or police officers and may lack faith in the rule of law.
The stigma surrounding sexual violence, coupled with the fact that perpetrators have often been members of governmental security forces, make it hard for individuals to feel comfortable coming forward and seeking justice through official means. In some cases, families will resolve the issue themselves by having victims marry their attackers or by otherwise 'closing the case' within the community through interfamilial or intercommunity negotiations. Acknowledging the severity of the issue, the government of the DRC took significant steps to address sexual violence in 2014 by prosecuting high-ranking army officers and paying reparations to survivors of conflict-related sexual violence. While this is progress in the right direction, there is still a need for broad psychological support and recovery services as individuals and families try to restore their lives. Direct victims are not the only ones affected–indirect victims such as families and other social networks may need psychological support as well, as witnesses to the rape of loved ones and children born of rape struggle with survivor's guilt and indirect trauma. Medical and psychosocial support is only currently available in and around provincial capitals, and those in more remote towns of the eastern province face increased likelihood of trauma-based depression or illness.
For questions as to why rape culture is so prevalent in the DRC to begin with, one must look beyond laws and militias, and examine cultural norms that have been in place since the colonial period. Women, for a long time, have had unequal access to education, food, healthcare, and ownership and inheritance of land. Prior to the outbreak of the war in the 1990's, men often committed acts of spousal violence against women at home and even teachers against students. Women, however, have often been blamed for 'provoking rape'. In a study conducted in eastern Congo in 2015, survivors of rape reported facing deeply entrenched stigma in their communities and their own families. Quite a few respondents reported feeling that they were no longer seen as 'useful' members of society, and felt ostracized. These cultural beliefs are also reflected in the judicial system—-while the DRC courts recognize the severity of GBV, the legal code also stipulates that a woman must obtain permission from her husband to access judicial institutions, buy land, travel, or accept a job. Marital rape is also not explicitly criminalized, making it harder to pursue cases of domestic violence. Dr. Mukwege summarizes the reality on the ground well: "Rape is not a sexual relationship. It is an effect to negate another human and destroy their equality. It is a crime that echoes across generations, and creates [a range of victims] whose needs and rights are often forgotten, but must be addressed."
Gender-based violence is a tool to weaken communities and marginalize certain ethnic groups. The high rate of violence against women specifically reflects an attitude that women are potential instruments of genocide and war. For militias looking to weaken the pillars of society, gender-based violence is certainly one way to go about it. Yet the damage does not stop when soldiers lay down their guns and when judges convict the guilty—-the lasting psychological and medical challenges continue to plague communities throughout the country. In order to build peace effectively, the appropriate resources need to be allocated to support the long, arduous, and painful recovery process. While the laws created to combat GBV are gaining traction, women need to have broader access to the judicial system. Moving forward in the DRC, those working on the ground need to recognize that no one 'asks for' or 'provokes' rape, and that acts of sexual violence are violations of human dignity.
—

Elizabeth Cauchois is a graduate of Tulane University in Louisiana and works as an advocate for refugee and asylee youth. She lives in Brooklyn, New York.