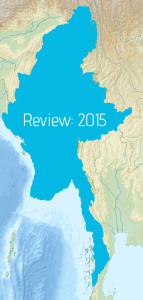 A Semester in Review
Many of STAND's conflict zones have been witness to progress towards peace; the first democratic elections in Burma were held in November, a ceasefire was declared between the South Sudanese government and opposition groups, and most recently, a UN Security Council Resolution called for a nationwide ceasefire in Syria. Several conflict zones have also seen more concerning developments; Russian airstrikes against Syria claimed the lives of hundreds of civilians, summary executions became a regular occurrence in Burundi, and attacks against Muslims mounted in Central African Republic. As STAND enters another year of mass-atrocities prevention and continues to cover developments in areas where genocidal violence has persisted, we have compiled the landmark events of 2015 in each of our conflict zones.
---
STAND's Southeast Asia Conflict Coordinator, Sophie Back, has produced a comprehensive overview of this semester's developments in Burma.
Sophie Back serves as STAND's Southeast Asia Conflict Coordinator, and is a third year student at University College London pursuing a degree in History and Political Science. An outspoken advocate for Amnesty International on campus, Sophie comes to STAND after spending the summer in Vietnam, where she led a team that organized workshops to prepare students for the implementation of the ASEAN Economic Community free trade area.