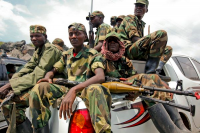 This blog post is an update on the current situation with the armed group M23 in the Democratic Republic of the Congo.  It is written by STAND's Education Coordinator, Sean Langberg who you can reach at slangberg@standnow.org.
The Congolese military and United Nations intervention brigade defeated the M23 armed forces this month.  On November 5, the M23 leadership announced their armed insurgency would end after losing its final two strongholds, Tshanzu and Runyoni, near the border with Uganda and Rwanda.  The defeat was likely brought about by pressure on Rwanda to cease its support of the insurgency, internal divisions, enhanced FARDC performance, and, perhaps uniquely, an aggressive mandate given to the intervention brigade.  The M23 plagued civilians in eastern DRC for the past twenty months.  Human Rights Watch, among others, reported the group executed civilians, raped women and girls, and abducted men and boys to fill its ranks.
Undoubtedly, the M23's defeat is a step forward for DRC.  However, much work remains, including finalizing a permanent ceasefire.  Martin Kobler, commander of MONUSCO forces, said attention will now turn to the Rwandan-backed FDLR, a group that existed long before the M23.  In addition, there are several other long-term challenges in eastern DRC such as a litany of other armed groups, widespread poverty, weak loyalty to the FARDC, and limited access to justice services, particularly for victims of crimes other than sexual violence.
Perhaps the most important element of the M23's defeat is the role of the UN intervention brigade.  The inaction of UN "peacekeeping" forces is a perennial criticism the organization receives from advocacy organizations, contributing states, and civilians they are mandated to protect.  The DRC intervention brigade is the first offensive combat force and it could be used as a model for other UN missions.  The benefits are clear.  Scenes of "peacekeepers" watching Hutus slaughter Tutsis would be less likely to be seen again.  However, it could have tremendous drawbacks such as abandoning the UN's foundational neutrality principle which, in turn, could affect its ability to negotiate peace deals.  Moreover, conflicts involving UN missions are often not morally or tactically one sided.  For instance, the FARDC is notorious for its propensity to commit war crimes and Kabila is a chronically corrupt and ineffective leader, yet MONUSCO operations support both the military and the executive.
The future of peace in eastern DRC and UN missions remains unclear, but the end of the M23 will have major implications for both issues.  The extent to which the FARDC and intervention brigade can capitalize on their current momentum will likely determine the fate of other armed groups.  Meanwhile, the willingness of UN leadership and contributing states to approve offensive missions will have dramatic implications for how the mass atrocity community approaches high-level international advocacy.
Photo courtesy: ai Kurokawa / European Pressphoto Agency