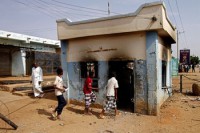 1. Sudan and South Sudan: This week the US backed an African Union plan to hold a referendum in the contested region of Abyei. The African Union High-Level Implementation Panel (AUHIP) has proposed holding the referendum this month. This proposal comes after a steady increase in protests calling for such a vote. This revamping of US support for action comes after a meeting between the US, Norway, and the United Kingdom who compose the troika for Sudan/South Sudan.
2. Sudan: In the aftermath of the recent protests in Sudan, President Omar al-Bashir has announced plans to hold a major economic conference to create a comprehensive plan to create a solution to the countries economic woes. This comes after a week of protests that Bashir claims were attempts to overthrow his regime, which has been in power since 1989. Aljazeera quoted him saying on Oct. 9th "Khartoum could not be overthrown because it is protected by God."
3. South Sudan: Also this week South Sudan President Salva Kiir pardoned several former opposition leaders including Lam Akol former leader of Sudan People's Liberation Movement for Democratic Change (SPLM-DC). Beyond Akol, the President's order also included the release of several former militia leaders and political prisoners whom had been accused of being in cohorts with the Sudanese government. This move has earned Kiir praise from Human Rights advocates.
4. Syria: The momentum generated by the recent chemical weapons deal to hold an international conference seeking a diplomatic solution to the conflict appears to be stalling as Washington and Tehran have run into disagreements. Iran rejected the U.S. State Department's suggestion on Monday that it would be "more open" to Iran taking part in the conference if Iran were to embrace a 2012 statement calling for a transitional authority in Syria. Tehran said it would not accept any conditions for taking part in the "Geneva 2″ conference. A previous conference in June 2012, the "Geneva Communique", also sought a diplomatic solution. Iran was excluded from this conference.
5. Syria: Government and Assad-affiliated militia groups launched attacks on a northern Syrian city and a southern Damascus suburb Tuesday and Wednesday. Government airstrikes on Tuesday targeted rebel positions near the strategic northern city of Maaret al-Numan, which is located by a major supply route connecting Damascus and Aleppo. Rebels captured Maaret al-Numan a year ago. On Wednesday, Iraqi militiamen and Hezbollah fighters captured the southern suburb of Damascus, Sheikh Omar, with the help of Syrian army firepower. Sheikh Omar sits between two highways used by the Assad regime to supply its forces in the southern provinces of Deraa and Sweida.
6. Democratic Republic of the Congo: Peace talks between M23 and the Congolese government, which began last month, were expected to finish this week. The original 14-day deadline for the completion of the talks has already passed, but Kinshasa has continued to express optimism towards the outcome. Meanwhile, the United States announced last week the withdrawal of military aid to Rwanda in retaliation for the use of child soldiers by M23, though Rwanda continues to deny any involvement with the rebel group.
7. Burma: Police have arrested 48 people following violence in Rakhine (Arakan) State of Burma last week in which five people were killed and  110 homes destroyed. The fighting began on Sept. 29 and lasted four days, coinciding with President Thein Sein's first visit to the region. According to The Irrawaddy, in the weeks leading up to the violence that was predominantly divided along religious lines between Buddhists and Muslims, the nationalist Buddhist organization known as 969 was spreading anti-Muslim messages throughout the region.
8. Burma: Three day long peace talks between the Kachin Independence Organization and the Myanmar government in Myitkyina, Kachin State failed to reach a much anticipated ceasefire agreement. However, people familiar with the talks said that the KIO had not in fact ruled out agreeing to a nationwide ceasefire between the government and all of the country's ethnic groups. Burma has subsequently released 56 political prisoners to bolster favorable perception of the government both in peace talks with the KIO and overseas in Brunei for the 23rd ASEAN Summit.
9. Central African Republic: The United Nations Security Council is scheduled to vote on a resolution drafted by France for the Central African Republic this week. The resolution urges the establishment of a U.N peacekeeping force in the Central African Republic. Although France has been reluctant in getting directly involved in the crisis in CAR, French Foreign minister Laurent Fabius warned that if international mitigating measures are not taken, CAR will become a failed state. Aside from the fact that France has a small force in Bangui surrounding the airport, they have stated that they are willing to provide logistical support as a way to stabilize and secure CAR.
10. Azerbaijan: On Wednesday, Azerbaijan held its presidential election.  The country has a long history of conflict with Armenia, especially over Nagorno-Karabakh.  However, a report surfaced before voting even occurred that showed President Aliyev won reelection.  The expectations for the election were very low, but the leak proves that the prospects for increasing democratization in Azerbaijan are slim.