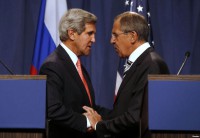 The opinions expressed in this blog are from STAND's Policy Coordinator Danny Hirschel-Burns and STAND's Education Coordinator Sean Langberg. 
On September 15th, John Kerry and Russian Foreign Minister Sergey Lavrov agreed on a framework for the removal and decommission of Syria's chemical weapons stockpile.  Fortunately, the deal prevented US airstrikes against Syria, which STAND advocated against based on their potential negative consequences for civilians.  While the deal offers some diplomatic progress, there are still many questions surrounding the actual effects of the deal on the course of the conflict.
The chemical weapons agreement, while representing a positive instance of multilateral cooperation, will do little to end the broader conflict.  It only focuses on chemical weapons, which have killed a small percentage of civilians.  Its implementation will happen over the course of a year and there is no guarantee that plan will be effective.  Assad may renege on the agreement or his government may be unable to release all the chemical weapons stockpiles to international monitors due to the intense nature of the conflict.  Finally, the chemical weapons deal could distract crucial diplomatic energy from a broader deal.  This deal is tenuous as is, and if Russia and the United States lose the desire to negotiate an end to the conflict, it may have few practical consequences for Syrian civilians.
While the deal could have negative consequences, there are also plenty of reasons to be hopeful.  First, the deal opens new diplomatic channels between Russia, the US, and Syria.  This warming of relations could potentially lead to a negotiated solution, the best possible endgame for Syrian civilians.  Second, days after the agreement, the Syrian deputy prime minister indicated that the regime would be open to a ceasefire, marking the first time the Assad government has openly signaled its willingness to pursue a negotiated solution.  Finally, in a speech to the UN General Assembly on Tuesday, Obama pledged an additional $339 million for humanitarian aid.  It will still not meet the total need of the enormous humanitarian crisis, but it is a big step forward.
There are still numerous challenges ahead for diplomatic progress in Syria.  Islamic extremists are unlikely to accept any deal, and their influence has grown with a recent merger of multiple groups.  Similarly, other opposition groups have made it clear that negotiations that involve Assad staying in power will not be feasible.  Despite the numerous barriers to an inclusive, diplomatic solution, STAND continues to support a negotiated solution, increased humanitarian aid, and a complete arms embargo.