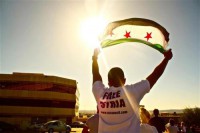 This post was written by Christina Howerton and originally appeared on the Syrian American Council's blog.
Today is World Press Freedom Day, and the situation for journalists in Syria is devestating.
According to Reporters Without Borders, 19 journalists have been killed in 2013, while 174 are in prison. Fifty eight netizens and citizen journalists have been killed since the revolution began in March 2011. Additionally, Syria is one of the worst countries in the world for press freedom and it ranks among the top enemies of the Internet.
Freedom House ranks Syria as the ninth worst place to be a journalist.
Ensuring the safety of journalists and media workers is a theme for this year's WPFD. Public awareness about the importance of the media, especially as a government watchdog in times of conflict and transition, must be developed to ensure that press freedom is widely cherished and that attacks on journalists will not be tolerated.
A media activist named Trad from Qusayr, Syria highlighted why independent, safe journalism is so important in Al Jazeera Witness documentary, "The Revolution is Being Televised."
"I haven't got a gun, I have a camera. My camera is my weapon," he said as he crouched behind a wall to film regime shelling of his town. "Bashar fears the camera more than any heavy artillery. More than any tank or jet fighter. The camera is bringing the truth to the outside world."