Since 2015, Yemen's civil war has claimed the lives of over 10,000 people through direct military force, and tens of thousands more due to malnutrition and disease. The US is tied to these deaths as a main supporter of a Saudi-Arabia-led coalition which routinely targets civilians, bombing farms, water infrastructure, marketplaces, and ports responsible for humanitarian aid delivery.
We cannot continue to stand by as our government contributes to civilian deaths in Yemen. Here's how you can help:
1. Call Your Representative and ask them to cosponsor and champion House Concurrent Resolution 81 to end US military support for the Saudi-led coalition. You can use our call-in script below. Then, help us spread the word!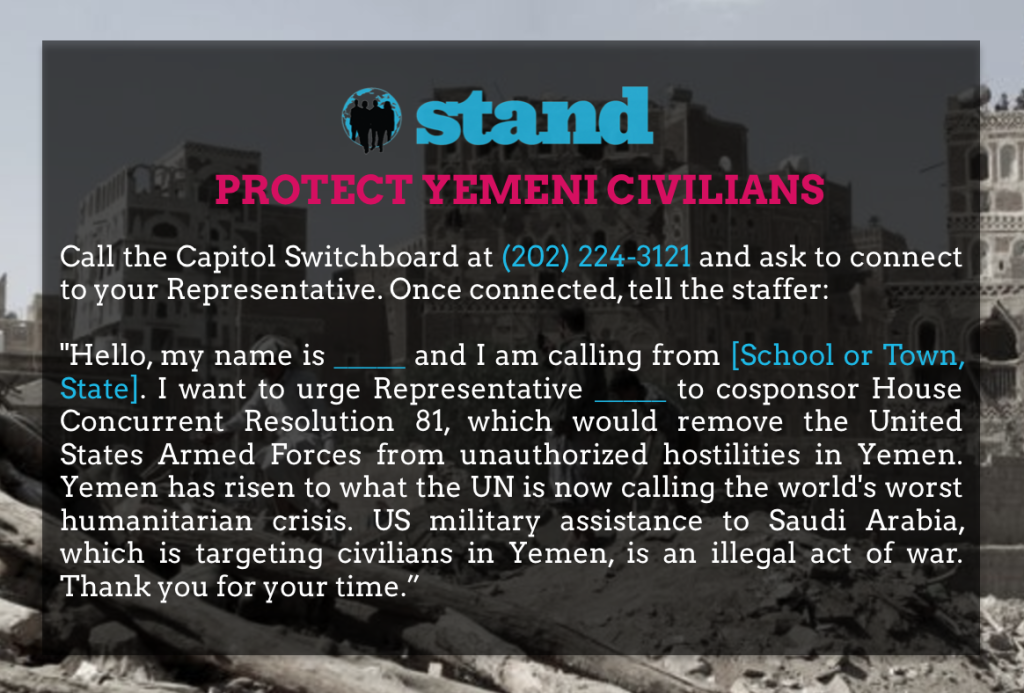 2. Host a Yemen-Aid Stand in your community! A Yemen-Aid Stand is just like a regular lemonade stand, but with a twist! People will have two options to get lemonade – either call their representatives and urge them to oppose U.S. military support for the Saudi-led coalition in Yemen, or donate to STAND to strengthen our advocacy efforts! Click here to download our guide.