"Life for me ain't been no crystal stair," Langston Hughes wrote in "Mother to Son." I should know because I am a survivor of the Darfur genocide. I was five years old when our home was burned and we were forced to flee our land. My twenty-one year old mother, alone and carrying four children, rescued us all. My youngest brother, only 45 days old, was on her back, my two-year-old brother in her arms, and my sister and I alongside, holding onto her skirt. We walked for days to reach the other side of the Sudan. During our fateful journey, we were stopped by Janjaweed militia who threatened to kill my brothers. My mother, knowing the danger, had dressed my brothers as girls, knowing the Janjaweed would not allow male survivors, no matter their age. Critical actions like this often determined whether children would survive or be shot in front of their mothers. My mother, my siblings, and I fled to the Gaga refugee camp in neighboring Chad where more hardships followed.
In the refugee camp, food and water were very scarce. After six months in the camps, my mother, who had a certificate in nursing, was offered a job in the hospital. Soon after, she was promoted and sent to France to complete her degree in French. My siblings and I had to stay behind with friends of hers when she left. Living without our mother was very difficult. I could not attend school because I had to stay home and take care of my siblings. When my mother returned we were able to live together again. My mother would go to school while I remained at home to care for my siblings. I had to cook food, wash clothes, clean the house, and anything else that needed to be done. Life continued like this for three years before my mother was asked if she would be willing to go to the United States.
My family is very fortunate to have been able to get out of the refugee camp and seek a better life. Unfortunately, not many families are as lucky as we have been. The Darfur genocide, although sadly no longer in the media as it was in the past, not only continues to this day, but has actually been escalating. Every day, families struggle for primary needs, such as food, water, and clothing. Women and girls are sexually assaulted every day. People long for safety and security, yearn for their land, and dream of living normal lives again. Seeing my people suffer makes me very sad because I understand what they are going through.
While in the refugee camp, I remember feeling empty. I felt helpless, like my destiny was not in my own hands. Being in America has allowed me to take back my destiny: the world is at my fingertips. I want to use the opportunities given to me to speak up for those whose voices cannot be heard; I feel that this is my purpose in life. I want to show them that there is a life other than that they see in the refugee camps – beyond the killings, the rapes, and the hunger. When I first came to the United States, I remember kids making fun of me because I could not speak English very well. Today, I am ranked number one in my class.
As the rest of Hughes poem goes "I'se still goin', honey, I'se still climbin'." As my high school years are ending, I am looking forward to going to college and pursuing my dream of double majoring in Public Health and Law. In Darfur, and in the refugee camps, sick patients cannot receive proper treatment because of monetary issues. It is my dream to open a non-profit hospital to offer the highest level of treatment at little to no cost to patients. Law school is also one of my goals because I want to represent the helpless and speak up for those who are unable to, such as women who are sexually assaulted and people whose lands have been stolen.
My passion for my people drives me to give 100% at all times. My mother and I have founded an organization called the Najwa Foundation—named after my mother—that helps women and children in Darfur and in the refugee camps in Chad. In understanding that women are the backbone of every family and every society, we provide humanitarian aid and education to women and girls. This is just the beginning. I dream to someday be the President of Sudan and to restore peace and security to my land and to create unity amongst my people.
________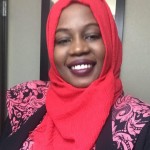 Siham Hassan is a Sudanese student and Darfur Genocide survivor. She arrived in the United States in 2010 at the age of nine from the refugee camps of Chad and recently graduated from high school.