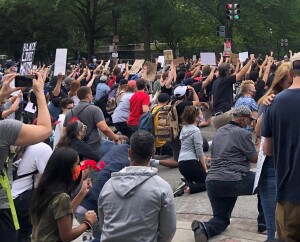 Ashley Morefield is a Program Assistant at the National Democratic Institute and former Fulbright English Teaching Assistant in Côte d'Ivoire. She is an alumna of Dickinson College and STAND: The Student-Led Movement to End Mass Atrocities. 
Brandon Alonzo is a Facilitator at YA-YA Network, Ambassador at Zero Hour, and NY State Advocacy Lead at STAND: The Student-Led Movement to End Mass Atrocities.
---
This blog is the third in a series on the Global Fragility Act, signed into law on December 20, 2019, which would significantly reorient U.S. foreign policy and assistance to address the root causes of violence. It requires extensive cooperation between U.S. diplomatic, development, and defence agencies in order to develop the Global Fragility Strategy (GFS), to be submitted to Congress on September 15, 2020. The GFS will be the first-ever whole-of-government plan to prevent or reduce conflict in at least five fragile contexts over a 10-year period. Under the new GFS, agencies will use a range of diplomatic and programmatic efforts to address the drivers of violence while the GFA will support learning. about which diplomatic and programmatic efforts are most effective at preventing and reducing violence.

Learn more here.
---
Note: The views and opinions expressed in this blog are those of the authors and do not necessarily represent or reflect the views of their schools or employers.
---
The opportunity to fully implement the Global Fragility Act (GFA) is incredibly timely given the recent demands for action against police brutality in the United States. On May 25, the tragic murder of George Floyd by four Minneapolis police officers reignited calls for Black Lives Matter (BLM) protests across America and in more than 60 countries. While focused on responding to police brutality, extrajudicial killings of Black people, and the need for anti-racist measures across all institutions in the U.S., BLM has also awoken a mass consciousness to the longstanding violence against Black people and other marginalized groups globally. 
As a Black woman and Latinx man involved in international non-profit spaces, we have seen how deep-rooted racism can upend a person of color's physical safety in an instant or ability to navigate predominantly white spaces, as they are born into systems made to oppress them and not uplift them. BLM has pushed anti-racism and inclusion measures to the forefront of all sectors, for instance, highlighting elements of a "white savior complex" in U.S. foreign policy. Organizations like No White Saviors advocate for local experts and leaders to resolve their communities' problems, not implement Western responses into other contexts. The GFA has the potential to put this into action and commit to its promise of supporting community-led development and amplifying youth advocates in order to address the root causes of violence in its priority countries. 
What we are witnessing in Palestine is similar to what has taken place in the United States against the Black community. Systemic oppression is something that the two communities share in common. One way the Israeli-Palestinian conflict has manifested is in the form of environmental racism. Climate change is a crisis, one that impacts everyone and has the potential to wipe out humanity. Despite this, there is a lack of urgency demonstrated by global leaders on how  to tackle it. Marginalized communities are bearing the brunt of climate change on the global stage. That is exactly what environmental racism is about, and it is a real problem that is often ignored by a large portion of the media. 
The Israeli-Palestinian conflict is a climate justice issue. Palestinians are vulnerable to climate change because they aren't allowed to manage their own land and resources. Gaza, a Palestinian territory, has been experiencing a shortage of water supply not only because of climate change but also due to Israeli restrictions on the entry of materials and fuel needed for wastewater treatment. This has resulted in much of the water being contaminated and undrinkable. This is the same water that is home to marine life, so it has raised concerns that the food supply is unsafe as well. This continued contamination of local resources from the land and sea from Israel and external companies undermines Palestinians' rights to control and rehabilitate their land.
In the U.S., Black communities face similar problems to Palestinians in Gaza, in the sense that they mainly aren't in charge of managing the resources in their own communities. Along with other marginalized groups, Black Americans have been limited to living in neighborhoods that have higher exposure to pollution and toxicity. From 1987 to 2000, race was the strongest determinant of the location of commercial hazardous waste sites. Black Americans are three times more likely to die from exposure to small particle air pollution than anyone else. Given the fact that Black communities are disproportionately impacted by climate change, race is still the strongest factor in who is systematically targeted. 
The violence demonstrated by the Israeli government doesn't help either, with reports indicating that the 2014 Israeli war on Gaza resulted in 21,000 tonnes of explosives used on the land, which damaged the soil and agricultural activity. This isn't even taking into account that the Israeli government has continued to cut down trees in the Gaza strip with 800,000 olive trees uprooted since 1967. The U.S. government has a significant role to play in addressing all of this, given the amount of aid provided to Israel every year. Given the criteria for priority country or region selection, Palestine  would align with the GFA given the levels of fragility, ongoing violence committed against the Palestinian people, and commitment of local Palestinian and Israeli organizations working for peace. Additionally, the U.S government holds significant influence over the Israeli government, which strengthens the possibility that a strategy under the GFA could meaningfully affect the levels of fragility and violence. However, it is highly unlikely that the current administration would consider Palestine as a priority region; further, the Israeli government does not display commitment to possible actions that could be taken under the GFA given the state-sponsored violence committed against Palestinians and most recently, the U.S.-backed plan to annex most of the West Bank which has been indefinitely delayed.
The ongoing civil war in Yemen has also taken a toll on civilians and discontinued access to agricultural activity. Since 2015, the civil war has displaced millions, devastated infrastructure, spurred an economic crisis, and created the largest food security emergency in the world. As number two on the U.S. Holocaust Museum's Early Warning Project's list for the estimated risk of mass killing in 2019-2020, Yemen's fragility is worsening. According to the World Food Programme, as of May 2020, 90% of Yemen's food was imported and almost two million children between the ages of 6 months and 5 years old suffer from malnutrition. 
The Black American community has also fought food insecurity for decades, as inequitable, racist systems contribute to lower wages and unemployment, geographic placement of supermarkets or organic food sources (also known as food deserts), higher healthcare costs and proclivity towards health issues, mass incarceration, and much more. Even before the food shortage spurred by COVID-19, Black Americans represented the most food-insecure households in America at 21.2%, more than double white households. 
Through GFA's flexible funding nature, Yemen's conflict, compounded by the COVID-19 pandemic and five years of relentless violence, may wane. The U.S. has failed to adequately respond to Yemenis' need for international intervention, as it continues to support the Saudi coalition that targets Yemeni civilians and blocks humanitarian assistance. Last year, the Trump administration's veto of the Yemen War Powers Resolution sent a clear message that the U.S. was comfortable being unconstitutionally complicit in the war. Including Yemen as a U.S. strategic priority now may be the needed response to halt further violence, decelerate food insecurity, and finally help address the root causes of Yemen's 2011 uprising that sparked the instability seen today. 
The U.S. must utilize foreign assistance as a tool to support countries and regions like Yemen and Palestine on their journeys to establish peace. The GFA's core mission to better coordinate U.S. federal agencies' responses is imperative to more successful stabilization and preventative measures and projects in Palestine, Yemen, and other places affected by conflict and fragility.
2020 has been a critical year, not only for addressing racial inequity and rapidly responding to the COVID-19 pandemic, but also for the first steps towards the successful implementation of the GFA. Not only is investing in prevention cost-effective, but it is inherently in the American national security interest. There are lifelong lessons from the BLM movement and undeniable parallels between the violence abroad and the ongoing war against Blacks in the U.S. The GFA's implementation has the potential to address deep-rooted injustices and stabilize communities, that we could even use to finally reconcile the atrocities continuously waged against Black Americans since 1619.