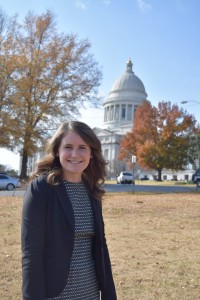 This past semester, I have worked as an intern for a local refugee resettlement agency. This opportunity gave me a wide variety of unique experiences and deepened my understanding of the challenges that refugees must overcome in order to create new and peaceful lives for themselves. I have spent hours listening to the stories of various refugees who were forced to flee their homes and endure the most horrific and inhumane circumstances with the hope of one day finding peace and safety. I have been inspired by the ways in which these friends of mine have resiliently combated the obstacles that they face daily and continue to hope for a future for themselves and their loved ones.
I was angered and heartbroken by the Trump Administration's recent decision to set the refugee admissions quota to 18,000, the lowest in U.S. history. Beyond numbers, this quota means that countless individuals with stories similar to those of my friends will be left without the chance to start new lives. Many will be forced to live in overcrowded refugee camps with limited access to basic necessities, much less the opportunity to build a future. My heart breaks for the many refugees who will now be separated from their families for years as the decreased refugee admissions quota makes it difficult for their loved ones to join them in the U.S. I think especially of my friend Sikitu, whose family already had plane tickets and were scheduled to join her here in Arkansas at the end of September, but were held up due to a delay in obtaining exit visas. What was originally a minor delay now means that her family is unlikely to be resettled within the next year, as their odds of being selected for resettlement in the new fiscal year are very unlikely. 
This record-low resettlement quota was also alarming to me due to the nature of conflicts that refugees are fleeing from, most of which are STAND conflict areas. For example, in the past few years, the U.S. has resettled more refugees from the Democratic Republic of the Congo than any other country. These refugees are fleeing from a conflict that has persisted for over 30 years and has led to concerning levels of sexual violence and other abuses of fundamental human rights. Unfortunately, the recent quota of 18,000 comes with the prioritization of refugees fleeing religious persecution or who served as translators for U.S. forces in Iraq, meaning that the resettlement of refugees from the Congo will not be a priority in the next fiscal year.
The U.S. historically served as the leading resettlement location for refugees. We lost this position in 2017 due to dramatically decreasing refugee quotas under the Trump administration. This decrease in U.S. resettlement has occurred even as the number of refugees and forcibly displaced people in the world continues to rise. I have also witnessed first-hand how drastically changing refugee admissions quotas, due to the constant change in presidential administrations, have made it difficult for resettlement organizations to remain open and support refugees well.
U.S. refugee resettlement is under attack, and it is imperative that we fight to continue this life-saving operation. One important way that we can do this is by passing the GRACE Act (Guaranteed Refugee Admission Ceiling Enhancement Act). This bill is currently in both the House and Senate and would mandate the admission of minimum of our historic average of 95,000 refugees to be resettled to the U.S. each year. This would provide consistency to local resettlement agencies and allow the U.S. to continue its tradition as a leader in refugee resettlement. I would encourage any individual who is supportive of this goal to call their elected representatives today and implore them to support this crucial piece of legislation. Additionally, local resettlement agencies are in need of support now more than ever. Most resettlement agencies are dependent upon volunteers and private donors in order to equip refugees with the tools to be successful in the U.S. It is time for U.S. citizens to take a stand in defense of refugee resettlement and demonstrate our support for some of the world's most vulnerable yet resilient people.
–
Megan Rodgers is a junior International Studies, Political Science, and Spanish major at the University of Arkansas and serves as STAND's Democratic Republic of the Congo Action Committee Lead. She became interested in the Democratic Republic of the Congo during her time studying abroad in Kigali, Rwanda during spring 2019 and through relationships with refugees in her community who are from the Congo.