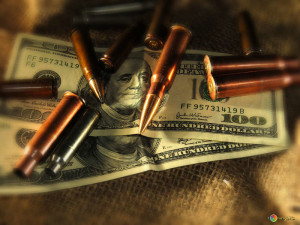 Violence has engulfed the world's youngest nation for a significant part of history, even before it officially separated from Sudan. South Sudan, which became a nation in 2011, broke out into civil war in 2013, after its President, Salva Kiir, fired Vice President Riek Machar. Though the origins of the conflict are political, ethnicity has increasingly been used by political elites to hold onto power with the Dinka aligning themselves with Kiir and the Nuer with Machar. Since the conflict began, a myriad of peace talks have gone awry, several ceasefires have been ignored, and countless innocent civilians have suffered. Due to destructive tactics such as ethnic targeting and mass starvation, the United States placed an arms embargo on South Sudan in early February. While this action on its own will have little direct impact on the conflict, the embargo sends an important message and attempts to inspire other nations who could more significantly affect the issue.
The United States' arms ban on South Sudan comes as the result of cumulating frustration over the factions' failure to negotiate peace, to maintain ceasefires, and to protect the lives of their citizens. The United States began taking action against the political elites of South Sudan in 2014, when President Obama sanctioned six military leaders because of their involvement with the atrocities taking place. During the Trump administration, these sanctions have broadened to include three close associates to Kiir, who are charged with personally profiting from the violence. Additionally, United States Ambassador to the United Nations Nikki Haley has pushed for more comprehensive action, leading to the implementation of the U.S. arms embargo. This campaign initially began with an ultimatum given to Kiir during a visit to the nation on October 25, 2017, where she also met with suffering civilians. The ultimatum essentially informed Kiir that he may lose American support if the violence and perpetration of atrocities by his military continues. When Kiir failed to respond, Haley began advocating for the end of the United States' support of Kiir and the implementation of an arms embargo. While the US State Department has officially declared an arms ban on South Sudan, it is an almost entirely symbolic move given that the U.S. has not dealt weapons to South Sudan.
Though symbolic, the move can also be seen as a call to action for other nations with the potential to have a deeper and stronger impact on the conflict. A State Department statement in February stated "We urge all countries, including South Sudan's neighbors, to promote peace and save innocent lives." The ban comes at a time of growing consciousness about the conflict and a desire for further action from other nations and organizations relevant to South Sudan's civil war. For example, the African Union has expressed its willingness to implement sanctions to end the conflict. Due to this rise in support for action, including some regional acknowledgment of the problem, it is a prime time for the United Nations Security Council to take action by placing an arms embargo on South Sudan so it can capitalize on the commonality of multiple nations' view on the issue.
While the growing agreement is encouraging, the United States, the United Nations, and South Sudan's neighbors need to take further action to ensure that they are not enabling the conflict. A UN embargo does not look entirely likely because of the veto power of Russia and China. Notably, China has oil ties to South Sudan and is thus unlikely to take direct action. Although the U.S. move is a welcome one, peace will not come to South Sudan unless there is additional action. South Sudan's neighbors must actively work towards ending this civil war by implementing sanctions, arms embargoes, providing humanitarian aid, and possibly through direct intervention. Furthermore, while the US has taken positive action to end the conflict, it must act further if it does not want to be complicit in the violence. Such action could include ceasing to supply arms to Uganda, who sells weapons to South Sudan. Options have not yet run out, and until the nation's neighbors and the UN are willing to act, the war will continue.
All of these steps are vital to ending the conflict, which has killed more than 50,000 people and displaced approximately four million. Priti Patel, the British International Development Secretary, has gone so far as to call the situation in South Sudan genocide, due to the ethnic divisions and destructive tactics used by both sides. Even if one does not consider the conflict to be genocide, one cannot ignore its potential to cause further mass systematic slaughter. The conflict has also placed even more lives at risk by causing a man-made famine that has left an estimated 1.25 million people on the brink of starvation — an amount expected to rise over the coming months. The war in South Sudan is preventing people from farming and aid from reaching large portions of the population, generating an abundance of hungry men, women, and children. To save these innocent lives, this war must end, and while the United States arms ban is a step in the right direction, it is only one move of many that must come to support stability in this young nation.  
Zachary Gossett is a member of the Communications Task Force for STAND. He is a first-year student at Butler University in Indianapolis, Indiana, where he is studying political science. He is passionate about protecting the rights of people of the world.