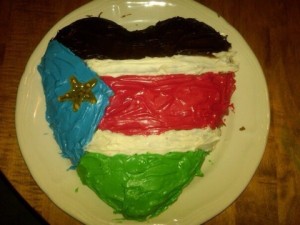 Today, the streets of South Sudan won't be emanating the call of ululating women but rather the sound of laborers hastily preparing for the country's 4th anniversary of independence. Yes, Salva Kiir has pulled out all of the stops to create a facade of peace and coexistence in his country–one that has been mired in conflict for more than 18 months.
I don't know about you, but I'd rather he spent more time at the negotiating table so that at the end of the day the country actually has something to celebrate. His actions closely resemble what my school does every spring prior to Admitted Students Day where fresh flowers are planted in the still frozen ground. It's a lie. Everyone knows that it still snows in Boston in what season is allegedly known as "spring." However the administration still hopes to uphold this falsehood to make the school look pretty. While this approach may work for a university, the beautification campaign Kiir is purporting does little to support the ailing country embroiled in civil war and devoured by its own economy. Everyone knows that South Sudan is at war with itself, yet Kiir continues to try to cover it up.
In December 2013, Riek Machar, the ex-vice president of South Sudan orchestrated an attempted coup d'etat of Kiir's government. The coup was abetted by Kiir's decision to depose his entire cabinet on July 23, 2013 when Machar announced his plans to challenge the President's power during the next election. Following the attempted coup, the country descended into a war largely fractured along ethnic lines. Supporters of Kiir's government are largely from the Dinka ethnic group whereas supporters of Machar are largely from the Nuer ethnic group. However, the world's newest state also struggles with attacks from militia groups allied with neighboring Sudan, and developmental and economic challenges.
The leaders of the Sudanese People's Liberation Army (SPLM/A) and its opposition are doing everything to remain in or attain power with little regard to the growing death toll or the 1.9 million displaced. After failures at peace talks and ceasefires, the two warring men are offering ultimatums. Machar warned that as long as Kiir remained in power, a sustainable peace could never be reached. The rebel leader expressed, "Should President Kiir remain adamant and refuse to hand over power back to the people, then the citizens have every right to rise up and overthrow his regime." This comes after parliament decided in March to extend Kiir's office by three more years, overriding initial plans for elections this summer.
* Trigger warning: sexual violence, graphic violence *
This all comes to light following the release of a United Nations Children's Fund (UNICEF) report last month outlining the horrific violence committed against children. UNICEF Executive Director Anthony Lake expressed, "Survivors report that boys have been castrated and left to bleed to death. Girls as young as 8 have been gang raped and murdered. Children have been tied together before their attackers slit their throats…Others have been thrown into burning buildings." 129 children were killed in the Unity State in three weeks of May alone. The report sparked international outcry.
All the while, South Sudan's economy is on the brink of utter collapse. Some Western officials are claiming that in order to sustain the economy the South Sudanese government is printing currency at an irresponsible rate and relying on a loan from a Middle Eastern country. As if that is not enough, South Sudan relies most significantly on the export of oil to sustain its economy, according to the World Bank. In May, rebel forces attacked an oil field in attempt to seize control of it. The strained relationship with the Sudanese government has already made it challenging enough to sustain the oil economy. Now, it is suspected that the government is only earning $10 per barrel.
While Kiir and Machar are busy purchasing fancy cars and allocating resources to celebrate the independence of a broken country, South Sudan is on the brink of collapse. Violence has become the norm and infrastructure is very weak. South Sudan will never be able to flourish or even survive if the country remains so fraught with corruption and self-interest. At the end of the day, we should stop attempting to plant tulips in permafrost. By "spring," all of the tulips will be dead. In his independence day speech, President Salva Kiir proclaimed, "May this day mark a new beginning of tolerance, unity and love for one another. Let our cultural and ethnic diversity be a source of pride and strength, not parochialism and conflict." Sad, isn't it?
*cake credit: Robin Garabedian and Mac Hamilton
Jessica Goldstein is a rising junior at Brandeis University.