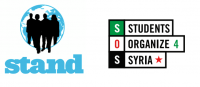 Over the past couple months, attention has turned to Syria, Iraq, and Turkey as the United States carried out bombing campaigns against the infamous extremist group, the Islamic State (IS), in an effort to confront the global threat. In Syria, where bombings and destruction have become commonplace at the hands of the Syrian regime, the intervention marks a shift in the international community from inconsistent inaction to a sort of action.
Since 2011, the world has watched silently as Syrian regime forces broke international law, using snipers, chemical weapons, barrel bombs, tanks, and other conventional weapons against civilians. And so, to some, this intervention is coming years late with the violence and injustice already permeating at a level that is nearly irreversible. To others, the involvement is unwarranted despite the overwhelming casualties, terror and chaos that envelopes the communities in Syria and Iraq. Some see the actions as selfish and defensive, provoked only by violence against American journalists and threats against American interests. Still others celebrate the involvement and look forward to the potential that international involvement could change the outcome of the current situation in Syria.
As a community of students, we hope to emphasize the conversation that is happening around the various issues our generation is forced to confront. Horrors and injustices beyond what most of us can imagine are occurring right now, in our world. How we perceive these horrors and injustices and how we react to them is vitally important for how we will engage with them in hindsight, in the present, and in the future.
As we focus on the ongoing conflict in Syria, we hope to highlight the varying perspectives both on the ongoing conflict and the international involvement that we are now watching develop. Over the next few months, we will be inviting guest posts on our blog to share their perspective. Voices will include Syrian Americans, diaspora, refugees, and student activists. As we share perspectives, we hope to create a dialogue that will give us a better understanding of the conflict, but also of how we confront horror and injustice as a generation, and how we can move forward as a community committed to peace and conflict prevention.
This blog series is a joint project between STAND and Students Organize for Syria (SOS). SOS is the national student organization for Syria, committed to engaging students across the US that have been organizing for solutions in Syria since the outbreak of violence in 2011. This is the first project of many to come between our organizations as this generation of students becomes more acutely aware of both the injustices being perpetrated in Syria and of our obligation to rectify those injustices to the utmost of our ability as global citizens.
If you would like to add your voice to our "Perspectives on Syria" blog series, please write to Luke at lkubacki@standnow.org with your idea and we will add you to the schedule. We are looking for blog posts between 300-500 words. The first blog is scheduled for November 19th.
This post was written by SOS's Zana Alattar and STAND's Luke Kubacki.
Read the whole Perspectives on Syria series here!
Exploring the Historical Trend of Artist Oppression