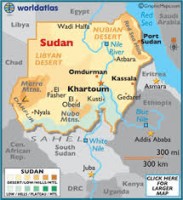 This piece was written by STAND's Policy Coordinator, Danny Hirschel-Burns in regards to our STAND for Sudan Campaign. You can contact Danny at dhirschelburns@standnow.org.

The Sudan Peace, Security and Accountability Act of 2013 (H.R. 1692) promises to provide a new approach to Sudan. The bill would allow the US to more effectively promote human rights and conflict resolution in Sudan. H.R. 1692 focuses primarily on creating a comprehensive strategy that would require various government agencies to coordinate heavily. Second, the bill outlines how the US can support a democratic transition and replace Omar al-Bashir. Third, H.R 1692 details how to improve the delivery of humanitarian aid and ensure that aid continues to flow. Fourth, if the bill were to pass, new sanctions targeted at Sudanese officials would be implemented and old sanctions would be improved. Fifth, H.R. 1692 also encourages coordination among U.S. allies on the enforcement of these sanctions. Finally, the bill strengthens existing mechanisms for ensuring accountability for human rights violations committed by members of the Sudanese government.
H.R. 1692 is not the first iteration of the Sudan Peace, Security, and Accountability Act. A2012 version was introduced, but unfortunately died in committee. Lawmakers have written in several important changes in the most recent version:
The bill stresses that while a comprehensive solution to conflict in Sudan should work in tandem with negotiations between Sudan and South Sudan, North-South diplomacy should not impede or condition the other set of talks.
This new bill is especially focused on working with other allies to coordinate policy and actions on Sudan, which is undeniably important.
Like the past version, H.R. 1692 asks the United Nations Security Council to implement a Sudan-wide peacekeeping mission. However, a change in wording stipulates that this mission would have a human rights monitoring component.
This bill focuses much more on the inclusiveness of the democratic process than last year's version. The bill has a fairly expansive definition of who should be taken into account in a future democratic transition,
"…including those institutions and organizations that can represent and articulate the demands of marginalized constituencies, such as the peripheries, youth, women, nomads, and urban and rural poor…"
This bill is the first to introduce sanctions against a government because it is failing to execute an ICC arrest warrant, in this case, against any Sudanese government official.
US legislation on Sudan is sorely outdated, and H.R. 1692 would provide a much-need update. The current framing piece of Sudan legislation is the Sudan Peace Act from 2002. This long predates the Comprehensive Peace Agreement from 2005 and South Sudan's independence in 2011. The Sudan Peace Act is too focused on events in Darfur, and H.R. 1692 would support a more comprehensive look at conflicts across Sudan. Nicholas Kristof is right that the bill will not solve Sudan's problems. However, H.R. 1692 would be a huge step forward for U.S. policy on Sudan.