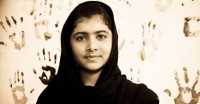 This piece is by David Sanker, STAND's Advocacy Intern.
This year's International Day of the Girl coincides remarkably well with a story I feel is extremely powerful and resonates with STAND's values. Pakistani teenager Malala Yousafzai has become an international icon for her courage and determination in her advocacy work for women's rights, despite renewed threats by the Taliban. She even appeared on The Daily Show with Jon Stewart on October 9, 2013. Furthermore, October 9 marked the one year anniversary of Malala being shot in the head by the Taliban in retaliation for her campaigning against school closings in Pakistan's Swat Valley. The Taliban also shot two other girls during this attack. Malala has since recovered, continued advocating for girls' education, and received near-universal accolade all in the past year. Malala was also rumored to be a top contender for the Nobel Peace Prize and recently received the European Parliament'sSakharov Prize for Freedom of Thought. Indeed, Malala's fight to stay alive and her continued efforts against institutionalized discrimination in education has pushed her cause onto the world stage. Malala's story is an example of great activism, but also shows how mass atrocities are not just physically violent — they involve and are often preceded by structural-level effects as well.
Many groups across the globe are prevented from meeting their basic needs by social institutions or government structures. John Gatlung defined this sort of social and legal discrimination as structural violence. Structural violence includes situations when people are not entitled access to the same resources. This often involves institutionalized elitism, ethnocentrism, classism, racism, sexism, adultism, nationalism, heterosexism, ableism and ageism. In Malala's case, she advocated against discrimination toward women in education. Unfortunately, structural violence has occurred throughout history and can currently be seen all over the world, from the United States to South Africa to Iran. Indeed, Malala's quest for ensuring women's access to education proves similar to the case of many other repressed groups around the world.
However, structural violence does not end with discrimination. The adverse effects of structural violence, according to Paul Farmer in An Anthropology of Structural Violence, include: "death, injury, illness, subjugation, stigmatization, and even psychological terror." Furthermore, structural violence has often been tied to adverse events like genocide, human rights violations, and mass epidemics. Jews in pre-war Germany experienced an ever-increasing amount of religiously, judicially, economically, and socially discriminatory laws, such as the Nuremberg Laws, in the years before Hitler's Final Solution. The MuslimRohingyas in Burma have experienced increased structural violence particularly since clashes in June and October 2012. The government has denied Rohingya's citizenship and forced them to use ID cards identifying ethnicity.  Various governments in Rwanda used ID cards identifying ethnicity before the 1994 genocide. Indeed, structural violence should not go unnoticed because it could potentially serve as an early warning mechanism for emerging conflict areas.
One must not ignore the people whose livelihoods are being subjugated on a daily basis, even if nonviolently, by repressive regimes across the world. While focusing on ongoing violence and mass atrocities is crucial, it is equally as important to take interest in the various groups being subjugated to structural violence around the world. Malala was shot in the head and continues advocating against the structurally violent act of forbidding women's education. What's the least we could do?