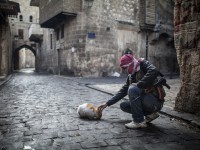 1. A United Nations Commission of Inquiry has concluded that both pro-government and rebel forces have committed war crimes and crimes against humanity. While both sides were reported to have committed these crimes, the majority of the crimes cited were carried out by pro-government forces. A four-person United Nations panel presented the report, calling on the international community to halt arms transfers to Syria and to "curb the increasing influence of extremists. The full report can be found here:http://www.nytimes.com/interactive/2013/09/11/world/middleeast/12geneva-doc.html
http://www.nytimes.com/2013/09/12/world/middleeast/united-nations-panel-cites-evidence-of-war-crimes-in-syria.html?partner=rss&emc=rss&smid=tw-nytimes&_r=0
2. In his address to the nation on Tuesday, President Obama stated his intention to pursue a new diplomatic plan laid out by Russia to remove the Assad administration's chemical weapons and place them under international control, while retaining the threat of military action should the plan fall through. The plan relies on a presidential statement, and calls on the United Nations Secretary General and the organization that oversees the Chemical Weapons convention to enforce it. Secretary of State John Kerry has been pushing for more force in the final Security Council resolution, and is currently in the process of negotiating with Russian foreign minister Sergey V. Lagrov.
http://www.nytimes.com/2013/09/11/world/middleeast/syrian-chemical-arsenal.html?pagewanted=all&_r=1&
3. France put forward a draft UN Security Council resolution on Tuesday that warned of "serious consequences" should the Assad administration fail to comply. Paris also stated that a military strike was still possible. Russia has said it cannot support the current resolution, calling it a "trap" meant to lead to military intervention.
http://www.reuters.com/article/2013/09/11/us-syria-crisis-france-idUSBRE98A0CR20130911
4. Before France put forward the UN Security Council resolution, Syria stated its willingness to unveil and cease the production of chemical weapons, although it fell short of a verbal commitment to give up its chemical arsenal. Syrian Foreign Minister Walid Muallem came out with this statement a day after "welcoming" the Russian plan to place Syrian chemical weapons under international control.
http://english.alarabiya.net/en/News/middle-east/2013/09/10/Syria-ready-to-unveil-not-surrender-its-chemical-weapons.html
5. Last Sunday, Iraq spoke out against potential US strikes on Syria during the visit of the Iranian Foreign Minister, Mohammad Javed Zarif. Iraqi Foreign Minster Hoshyar Zebari stated that "Iraq will not be a base for any attack, nor will it facilitate any such attack on Syria".
http://www.washingtonpost.com/world/middle_east/iraq-joins-iran-in-opposing-us-led-military-strike-in-syria/2013/09/08/9187c1f6-18b8-11e3-8685-5021e0c41964_story.html
6. The Sentinel Project, a Canadian-based genocide watchdog group, released a study on Tuesday that graphically portrays the ongoing persecution of the stateless and predominantly Muslim Rohingya people in Burma. What makes the study particularly alarming is that it shows the widening geographic scope of the violence that began as clashes in Burma's far western Rakhine (Arakan) State but has since spread east to the country's two largest cities (Mandalay in central Burma and Yangon on the coast) as well as other areas. The most recent incident cited by the new study is the death of five Rohingya men on Tuesday, allegedly killed by a group of Rakhine.
http://threatwiki.thesentinelproject.org/burmavisualization
7. The past week in Sudan and South Sudan has been categorized by ongoing conflict in border states as well as positive signs for the future. While the wet season begins flooding has already began in Warrap State sparking an emergency response by NGO's and UN agencies. Several tonnes of extra food supplies, medicine, as well as doctors have been dispatched to the effected areas. This flooding is also effecting the Jonglei, Upper Nile, and other states. Another story coming out of Khartoum is the trial of Amira Osman Hamed who potentially faces flogging as a punishment for refusing to wear the hijab in public. This week also consisted of further protests in Abyei in support of a one sided referendum, the first flights from Juba to Khartoum by a Southern Sudanese Airline, and a Chinese proposal at the UN to take on a stronger role in peace building in the region.
http://storify.com/baylencampbell/sudan-south-sudan-1
8. In Egypt this week, concern grew after an assassination attempt on the Interior Minister Mohammed Ibrahim. The assassination attempt aroused fears that more violence and acts of "terrorism" may soon unfold in the nation rigged with explosive instability.Wednesday, as two suicide bombers rammed into an army checkpoint, new twists were added to the crisis in Egypt. The potential for continued violence is extremely high and has caused the military to suppress 55,000 mosque preachers for fear of spreading a radical message of Islam. The hope is that through this ban the interim government will be able to maintain a moderate message of Islam.
http://www.usatoday.com/story/news/world/2013/09/11/suicide-bombs-egypt-military/2801453/
9. In the past week, at least 60 people have been killed as a result of clashes between Seleka rebel forces and local militia loyal to the ousted president, Francois Bozize. According to government spokesman Simplice Kodegue, the clashes took place in Bozize's hometown, a town northwest of Bossangua. UN officials stated that two aid workers were killed in the clashes. In a recent statement by Amy Martin, the head of the UN humanitarian office in CAR, Seleka rebel forces have been destructive in identifying militiamen by burning down villages and killing civilians. Leader of the Seleka rebel forces, Michel Djotodia, who was sworn in as president of CAR earlier this month, states that he will renounce his position after the 2016 elections. As stated by UN humanitarian chief Valerie Amos, about a third of the country's population is in need of food, water, shelter and or healthcare.
http://www.bbc.co.uk/news/world-africa-24021425
http://www.voanews.com/content/fighting-leaves-60-dead-in-central-african-republic/1746097.html
10. Bertrand Bisimwa, president of the M23 rebel group, announced on Sunday that M23 was ready to disarm, on two conditions: that Congolese refugees living in neighboring Rwanda, Uganda and Burundi return to their homes, and that another rebel group, the Democratic Forces for the Liberation of Rwanda (FDLR), made up primarily of Rwandan Hutus, disarms first. This announcement followed an emergency summit held last week in Uganda among countries of the Great Lakes Region to discuss the ongoing conflict in the eastern DRC. Those in attendance at the talks included Congolese president Joseph Kabila, Rwandan president Paul Kagame, and UN Special Envoy to the Great Lakes Region Mary Robinson, as well as the presidents of Uganda, Tanzania and South Sudan. At the ends of the talks, the regional leaders issued a declaration that peace talks between the Congolese government and M23 leaders, which had stalled earlier this year, should resume within three days and conclude within 14 days.http://www.washingtonpost.com/world/africa/congos-m23-rebels-say-theyre-ready-to-disband-set-conditions-including-return-of-refugees/2013/09/08/da5d7270-18a6-11e3-80ac-96205cacb45a_story.html