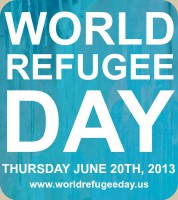 This post was written by Natasha Kieval, STAND Programs Intern. It is a reflection on World Refugee Day and focuses on the extra difficulties that LGBTI refugees face.
Today is World Refugee Day, the 62nd anniversary of the 1951 UN Refugee Convention, which defined the term "refugee" as well as the rights and the responsibilities of states to refugees. According to the UN, every minute 8 people leave their country to escape persecution or terror. At the end of 2011, an estimated 43 million people worldwide were forcibly displaced, and 46% of refugees were children.
As crises such as that in Syria continue, the issue of refugees is an aspect of conflict not to be forgotten. Currently, over 1.6 million Syrians are being hosted by foreign countries. The flow of refugees has wildly escalated in recent months, as over 1 million of these refugees have been displaced since January 2013. Over 75% of the Syrian refugees are women and children. To learn more about the refugee situation in Syria, visit the UNHCR website.
This refugee crisis is not unique to Syria. In the Jonglei state of South Sudan, 120,000 refugees are being denied aid by the authorities as the government says it is difficult to separate the civilians from the rebels. Over 250,000 Darfuris are still living in refugee camps in Chad.
All refugees face a difficult situation, but Lesbian, Gay, Bisexual, Transgender, and Intersex (LGBTI) refugees face added challenges. Many refugees who flee persecution go to countries where homosexuality is not generally accepted, such as Uganda. As of August 2012, Uganda holds over 190,000 refugees. This is the same nation that has threatened since 2009 to pass a law that makes a consenual hoomosexual relationship punishable with life in prison.
On Monday, the Organization for Refuge, Asylum and Migration (ORAM) held an event detailing the struggles of LGBTI refugees and asylum seekers. Victor Mukasa, a Ugandan human rights defender, told his powerful story of activism and his fight for safety. As a transgendered open lesbian, Mukasa has faced discrimination and harassment for many years. After becoming an LGBTI activist, Mukasa was threatened, but did not want to leave his home country of Uganda. Said Mukasa, "I felt like a prisoner in my own country." After his house was raided by the government and his family was endangered due to his activism, he sought asylum in the United States. His family continues to be unsafe. Mukasa is angry about his experience as a refugee in the United States. While he waited for asylum approval, he could not afford to eat and was not allowed to work. Mukasa spoke of feeling a loss of his dignity – he lost everything when he became a refugee. "I am a human rights defender. That is my passion. Forced to leave Uganda – I feel useless to my people," he says. Read more of Mukasa's story here.
To be officially labeled as a refugee, a person must first go through "refugee status determination." This includes being interviewed by a government employee or police officer and explaining why he/she should be considered a refugee. Many LGBTI refugees either have not accepted themselves as LGBTI or are afraid to share the truth with a foreign official. For this reason, many tell a fabricated story and then are denied refugee status. Others encounter unsympathetic officials.
Once accepted as a refugee, some LGBTI people face issues in refugee camps, such as hostile communities that don't accept homosexuality. People are forced to become refugees because they are fleeing persecution or terror, and LGBTI refugees often have the added struggle of dealing with being LGBTI in an unwelcoming community. The majority of LGBTI asylum seekers seek temporary relocation – they do not wish to become refugees, but are fleeing threats to themselves or their families.
Neil Grungras of ORAM spoke of a spot of hope on this issue – the international dialogue has shifted, now acknowledging LGBTI issues as human rights issues, not only social issues. On World Refugee Day, it is important to remember its relevance not only in the context of current conflicts like Syria, but to remember the added struggle that LGBTI refugees face in their quest for safety.